Workplace Law & Workplace Investigations
Rivera Carbone, PC (RCPC) is a boutique labor and employment law firm. From labor peace for employers to outstanding payments for select few employees, RCPC litigates with excellence and dedication to its clients. Our practice of law concentrates exclusively on employment law litigation and independent workplace investigations.
Learn More
RCPC is a law firm dedicated to the pursuit of justice for employers and carefully chosen employees. The firm's practice concentrates exclusively on employment law litigation and independent workplace investigations.
It is our mission to understand and interpret the needs of the client and to deliver high-quality services and excellent results. Our attorneys genuinely believe in providing innovative legal services in a cost-effective manner. We take cases we believe in, for clients that matter to us.
Due to our commitment to provide exceptional legal representation, we are very selective in the number of cases we accept. Our decision not to accept a case is not to be interpreted as an adverse opinion about the merits of a case.
RCPC operates as a professional law corporation organized under the laws of the State of California (USA), Entity Number C3310988.
WITH YOU EVERY STEP OF THE WAY!
We only take cases we believe in, for people who matter to us. Get all the good things that come with our careful and persistent work for clients.
COMMITTED TO JUSTICE
We help organizations be great employers (because it the right thing to do) while also helping aggrieved employees (because it gives us insight and tactical advantage in litigation). We really understand each side's perspective and have the expertise to obtain excellent results for all clients.
"When justice is done, it brings joy to the righteous but terror to evildoers." Proverbs 21:15
Javier Rivera Carbone
Javier has an excellent record of achieving positive results for clients in employment law litigation and labor union matters.
Areas of Practice
Labor & Employment Law
Labor Management Relations
Workplace Investigations
Education
Inter-American University, School of Law
Juris Doctor, Magna Cum Laude
University of Dayton, Dayton OH
Bachelors of Arts
Associated Attorneys
A Network of Experts to Serve Your Needs
Rivera Carbone PC has a network of attorneys, experts in their fields, available to serve your legal needs and provide ultimate value. Our Of Counsel provide services in the following areas of law: workers' compensation, personal injury, corporate law and business problem solving.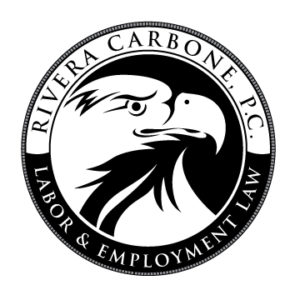 "Blessed are they who maintain justice, who constantly do what is right." Psalm 106:3